Prof. RNDr. Jiří Adámek, DrSc.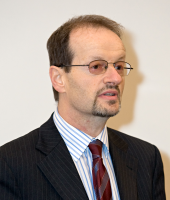 Contact information
Email address: j.adamek@tu-bs.de
Office phone: (+420) 2 2435 5108
Department phone: (+420) 2 2435 5113
Research interests
Category theory and its applications to computer science, locally presentable categories, topological categories.
Editorial activities
2004-2016: Founder and executive manager of 'Logical methods in Computer Science'
1993-2015: editor 'Applied Categorical Structures'
2000-today: editor 'Algebra Universalis', 'Journal of Pure and Applied Algebra' and 'Cahiers de Topologie et Géométrie Différentielle Catégoriques'
Publications
Monographs
J. Adámek, J. Rosický and E. Vitale, Algebraic Theories, Cambridge University Press 2011
J. Adámek, H. Herrlich and G.E. Strecker, Abstract and Concrete Categories, 2nd Edition, Dover Publications Inc., New York 2009, freely available.
J. Adámek and J. Rosický, Locally Presentable and Accessible Categories, Cambridge University Press 1994
J. Adámek and V. Trnková, Automata and Algebras in Categories, Kluwer Academic Publishers, London 1990
J. Adámek, Theory of Mathematical Structures, Reidel Publishing Company, Boston 1983
Proceedings
J. Adámek and S. MacLane, Categorical Topology, World Scientific, Singapore 1989
Papers published since 2015
Earlier papers can be found on this web-page.
2022
238. J. Adámek, M. Dostál and J. Velebil, A categorical view of varieties of ordered algebras, Math. Struct. Comput. Sci. 32 (2022), 349-373
237. J. Adámek, Varieties of quantitative algebras and their monads, Proceedings 'Logic in Computer Science' LICS 2022, 1-12
236. J. Adámek and J. Rosický, Approximate injectivity and smallness in metric-enriched categories, Journal of Pure and Applied Algebra 226 (2022), 1-30
2021
235. J. Adámek, C. Ford, S. Milius and L. Schroeder, Finitary monads on the category of posets, Math. Struct. Comput. Sci. 31 (2021), 799-821
234. J. Adámek, S. Milius and H. Urbat, On the behaviour of coalgebras with side effects and algebras with effectful iteration, Journal of Logic and Computation 31 (2021) 1429–1481
233. J. Adámek, LT Chen, S. Milius and H. Urbat, Reiterman's Theorem on Finite Algebras for a Monad, ACM Transactions on Computational Logic 22 (2021), 1-48
232. J. Adámek, Algebraic cocompleteness and finitary functors, Logical Methods in Computer Science, 2021, Volume 17, Issue 2
231. J. Adámek and J. Rosický, Which Categories Are Varieties?, Proceedings of the conference CALCO 2021, LIPIcs, Volume 211
230. J. Adámek, S. Milius, and L. S. Moss, Initial Algebras Without Iteration, Proceedings of the conference CALCO 2021, LIPIcs, Volume 211
229. J. Adámek and L. Sousa, D-Ultrafilters and their monads, Adv. Math. (2021), 107486
2020
228. J. Adámek, S. Milius and L. Moss, On well-founded and recursive coalgebras, Proceedings FOSSACS 2020, Lecture Notes Comput. Sci. 12077 (2020), 17-36
227. J. Adámek and J. Rosický, How nice are free completions of categories? Topology and Appl. 273 (2020), 1-24
226. J. Adámek, On free completely iterative algebras, Proceedings CSL 2020, LIPIcs-CSL-2020, 7:1-7:21
225. J. Adámek, Approximate coalgebra homomorphisms and approximate solutions, Proceedings CMCS 2020, Lecture Notes Comput. Sci. 12094, Springer (2020), 11-31
2019
224. J. Adámek, A. D. Brooke-Taylor, T. Campion, L. Positselski, and J.Rosický, Colimit-dense subcategories, Comment.Math.Univ.Carolin. 60 (2019), 447-462
223. J. Adámek, On terminal coalgebras derived from initial algebras, Proceedings CALCO 2019, LIPIcs-CALCO-2019, 12:1-12:21
222. J. Adámek, S. Milius, L.Sousa and T. Wissmann, Finitely presentable algebras for finitary monads, Theory Appl. of Categories 34 (2019), 1179-1195
221. J. Adámek, S. Milius, L.Sousa and T. Wissmann, On finitary functors, Theory Appl. of Categories 34 (2019), 1134-1164
220. J. Adámek and S. Milius, On functors preserving coproducts and algebras with iterativity, Theoretical Comput. Sci. 763 (2019), 66-87
2018
219. J. Adámek, S. Milius, R.S.R. Myers and H. Urbat, Generalized Eilenberg theorem: Varieties of languages in a category, ACM Trans. Comput. Log. 20 (2018), 3:1-3:47
218. J. Adámek and L.Sousa, A formula for codensity monads and density comonads, Appl. Categor. Struc. 26 (2018), 855-872
217. J. Adámek, S. Milius and H. Urbat, On Algebras with Effectful Iteration, Proceedings CMCS 2018, Lecture Notes Comput. Sci. 11202 (2018), 144-166.
216. J. Adámek, S. Milius and H. Urbat, A Categorical Approach to Syntactic Monoids, Lecture Notes Comput. Sci. 11202 (2018), 144-166.
215. J. Adámek, S. Milius and L. S. Moss, Fixed Points of Functors, J. Log. Algebr. Methods Program. 95 (2018) 41-81
2017
214. J. Adámek, S. Milius and J. Velebil, A presentation of bases for parametrized iterativity, Theory Appl. of Categories 32 (2017), 682-718
213. J. Adámek and S. Milius, On Corecursive Algebras for Functors Preserving Coproducts, Proceedings CALCO 2017, LIPIcs 72 (2017), 3:1-3:15
212. H. Urbat, J. Adámek, L.-T. Chen and S. Milius, Eilenberg theorems for free, Best Paper Award of the conference Mathematcal Foundations of Computer Science, Proceedings MFCS'17, LIPIcs 72 (2017), 43:1-43:15
211. J. Adámek and J. Rosický, Algebra and local presentability: how algebraic are they? (a survey), Tbilisi Math. Journal 10 (2017), 311-327
210. J.Adámek and L.Sousa, KZ-monadic categories and their logic, Theory Appl. of Categories 32 (2017), 338-379
209. J. Adámek, S. Milius and J. Velebil, A presentation of bases for parametrized iterativity, Theory Appl. of Categories 32 (2017), 682-718
2016
208. J. Adámek, V. Koubek and T. Palm, Fixed points of set functors: how many iterations are needed? Appl.Categor.Struc. 24 (2016), 649-661
207. L.-T. Chen, J. Adámek, S. Milius and H. Urbat, Profinite monads, profinite equations and Reitermann's theorem, Proceedings FoSSaCS 2016, Lecture Notes Comput. Sci. (ARCoSS) 9634 (2016), 531-547
2015
206. J. Adámek and J. Rosický, On reflective subcategories of locally presentable categories, Theory Appl. Categories 30 (2015), 1306-1318
205. R. S. Myers, J. Adámek, S. Milius and H. Urbat, Canonical constructions of nondeterministic automata, Theoret. Comput. Sci. 604 (2015), 81-101
204. J. Adámek, P. B. Levy, S. Milius, L. S. Moss and L. Sousa, On final coalgebras of power-set functors and saturated trees, Appl. Categor. Struct. 23 (2015), 609-641
203. J. Adámek, H. Urbat, and S. Milius, Syntactic monoids in a category, best paper award conference CALCO 2015, Proceedings LIPIcs 35 (2015), 1-16
202. J. Adámek, L. Sousa, and J. Velebil, Kan injectivity in order-enriched categories, Math. Struct. Comput. Sci. (2015), 6-45
201. J. Adámek, S. Milius, R. Myers, and H. Urbat, Varieties of languages in a category, Proceedings LICS 2015, 414-425